LOBBY & CHECK-IN/OUT HOURS
The lobby is open from 7 AM to 11 PM, 7 days per week.
Check-in is at 3 PM
Check-out is at 12 noon

Please Call Ahead if you would like an early check-in or late check-out.
If you need assistance after hours, you may call 541-476-9019 Option #1
If you will be arriving after 11pm, please call us at 541-471-8000 so we can provide you with the after hours check in procedure.
Free breakfast is served from 7:30 AM until 11:00 AM
Hors-d'oeuvres are served from 4:30 PM until 6:30 PM
Local wine and craft beers are available for purchase from 7:00 AM to 11:00 PM
Scratch-made cookies and milk along with campfire s'mores are available from 7:30 PM to 9:00 PM
Oregon-made snacks, 7am -11pm
For more details see our full description of food and amenities.
Weasku Inn does not allow pets. If you are traveling with a service animal, please be sure to declare your animal at check-in to avoid incurring additional cleaning fees.

If you are traveling with a pet and are looking for accommodations, please visit these other nearby hotels:   Riverside Inn overlooking the Rogue River, or Best Western Inn at the Rogue.
We have built our site with ADA compliance in mind and have utilized available tools such as Google Chrome's ADA compatibility diagnostic tools. If you have difficulty navigating our website or booking a reservation, we ask you to contact us via telephone or email and we will be happy to assist you. Please note, many aspects of our property are ADA compliant, however the second floor, including access to the second floor, of the main, historic 1924 lodge, is not ADA compliant.
WEASKU INN
5560 Rogue River Highway
Grants Pass Oregon 97527
Reservations@Weasku.com
We work very hard to provide an easy-to-use online experience for all. We believe all of our website visitors should be able to easily research online on https://weasku.com/ regardless of device type and whether an individual requires assistive technology like a screen reader, font magnification, translation or voice recognition software. If you have any questions or would like to report any issues related to the accessibility features of our property's website, please contact us at Reservations@Weasku.com
Property's Accessibility Features
We have an ADA Compliant Queen Cabin available. LINK HERE
Lobby bathroom is ADA accessible, really the entire lobby is, as is the main deck if accessed through the lobby.
Firepit is wheelchair accessible, same with the Boardroom and it's bathroom
Check in can be accomplished away from the desk to handle any ADA needs
There is an ADA marked and van accessible parking spot in the lot.
The paths around the property are pack gravel and suitable for wheelchairs


Website Accessibility Features
This website for The Weasku Inn is designed to be fully accessible to all and is designed according to W3C Web Content Accessibility Guidelines (WCAG) 2.0 and conforms to most priority checkpoints which entail some of the following elements:
Navigation Shortcuts
Our inn's website can be navigated by using the tab key to traverse the elements of each page and by using the enter key to activate a highlighted link.
Structured, Semantic Markup
HTML heading tags are used to convey the document structure. Navigation menus are tagged as HTML maps so that the menu title can be read out, and the menu items are presented as a group.
Images Visibility
All content images include descriptive ALT attributes and all purely decorative graphics include null ALT attributes.
Standards Compliance
The site is designed to conform to Level AA compliance as specified by the Web Content Accessibility Guidelines. All pages validate as XHTML 1.0 and use structured semantic markup.
Accessibility References
Web Content Accessibility Guidelines (WCAG) 2.0, which explains the reasons behind each guideline.
Section 508, Information and news about the accessibility standards introduced by Section 508 of the Rehabilitation Act.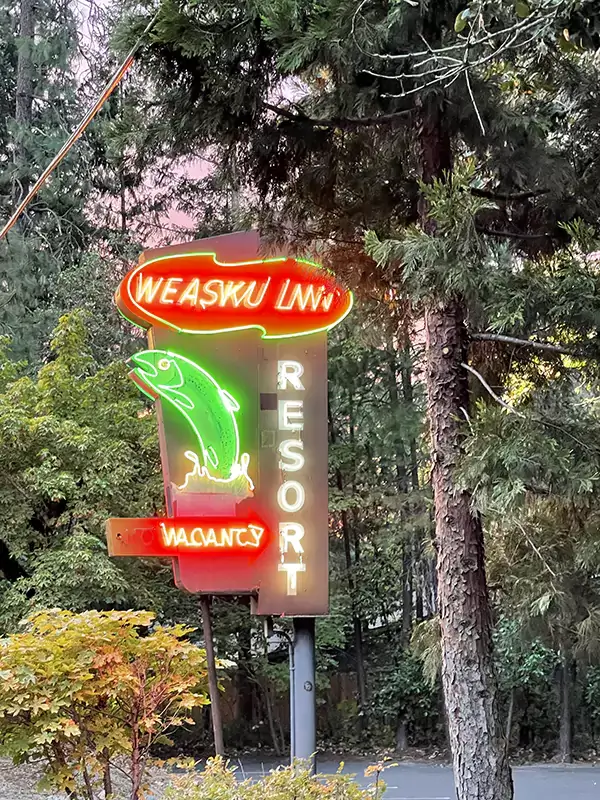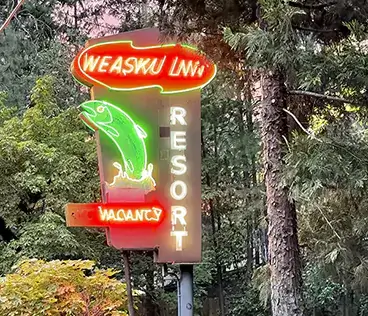 EVERY ROOM & CABIN INCLUDES:
Free Parking
Free Hi Speed Wireless Internet
Full Breakfast
Afternoon Hors d'Oeuvres
Evening Cookies & Milk
Aveda Spa Products
In Room Coffee Maker
Campfire S'mores
Fireplace
Bathrobe For Your Stay
Iron & Ironing Board
Alarm Clock
Hairdryer
Laundry Service Available
Cable Flatscreen TV with HDMI